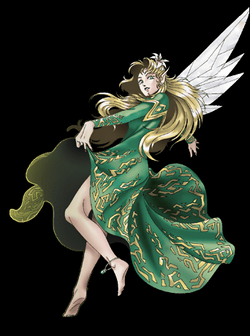 "Fairy queen and wife to Oberon. She is derived from Diana in Roman myth and is immortalized in Shakespeare's play, "A Midsummer Night's Dream.""
—Compendium Info
Titania (ティターニア, Titaania) is a Level 26 Persona of the Empress Arcana.
It can be obtained from Shuffle Time in the Marukyu Striptease dungeon.
Titania inherits "Ice" skills from other Personas in Fusion.
Stats
[
]
| Strength | Magic | Endurance | Agility | Luck |
| --- | --- | --- | --- | --- |
| 12 | 23 | 15 | 19 | 16 |
Elemental
[
]
| Element | Phys | Agi | Bufu | Zio | Garu | Hama | Mudo |
| --- | --- | --- | --- | --- | --- | --- | --- |
| Affinity | - | Weak | Block | - | - | - | - |
| Effectiveness (%) | 100 | 125 | - | 100 | 100 | 50 | 50 |
Skills
[
]