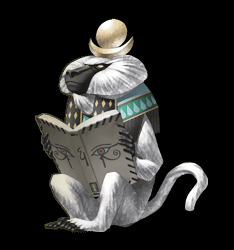 "Egyptian moon god that takes the form of a baboon. He is the measurer of time, and gave Isis the power to resurrect Osiris after he was killed by the evil god Seth."
—Compendium Info
Thoth (トート, Tooto) is a Level 45 Persona of the Emperor Arcana.
It can be obtained from the Secret Laboratory dungeon.
Thoth inherits "Electricity" skills from the card fusions.
Stats
[
]
Strength
Magic
Endurance
Agility
Luck
28
43
23
27
Elemental
[
]
| Element | Phys | Agi | Bufu | Zio | Garu | Hama | Mudo |
| --- | --- | --- | --- | --- | --- | --- | --- |
| Affinity | - | - | - | Block | Weak | Reflect | Weak |
| Effectiveness (%) | 100 | 100 | 100 | - | 125 | - | 125 |
Skills
[
]