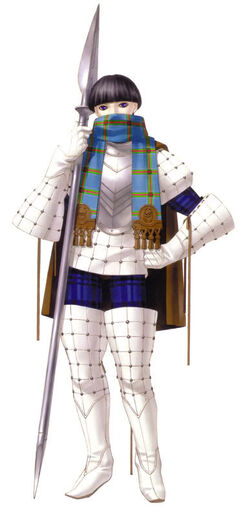 "A brave young man in Celtic myth. After defeating a vicious dog with his bare hands, he took up its role as guardian, and gave himself a name meaning "Hound of Culann.""
—Compendium Info
Setanta (セタンタ, Setanta) is a Level 34 Persona of the Emperor Arcana.
It can be obtained from the Void Quest and Secret Laboratory dungeons.
Setanta inherits "Electricity" skills from the card fusions.
Stats
[
]
| Strength | Magic | Endurance | Agility | Luck |
| --- | --- | --- | --- | --- |
| 23 | 21 | 25 | 24 | 16 |
Elemental
[
]
| Element | Phys | Agi | Bufu | Zio | Garu | Hama | Mudo |
| --- | --- | --- | --- | --- | --- | --- | --- |
| Affinity | - | Weak | - | Block | - | - | - |
| Effectiveness (%) | 100 | 125 | 100 | - | 100 | 50 | 50 |
Skills
[
]