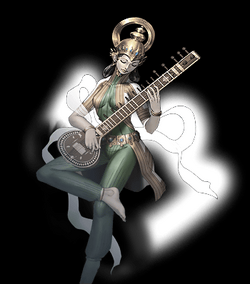 "In Hindu myth, she is the goddess of rivers and patron of speech, writing, learning, and the arts and sciences. Brahma is her husband."
—Compendium Info
Sarasvati (サラスヴァティ, Sarasuvati) is a Level 17 Persona of the Priestess Arcana.
It can be obtained from the Midnight Channel dungeons Steamy Bathhouse and Marukyu Striptease.
Sarasvati inherits "Recovery" skills from other Personas in Fusion.
Stats
[
]
| Strength | Magic | Endurance | Agility | Luck |
| --- | --- | --- | --- | --- |
| 9 | 16 | 10 | 13 | 10 |
Elemental
[
]
| Element | Phys | Agi | Bufu | Zio | Garu | Hama | Mudo |
| --- | --- | --- | --- | --- | --- | --- | --- |
| Affinity | - | - | Block | - | Weak | - | - |
| Effectiveness (%) | 100 | 100 | - | 100 | 125 | 50 | 50 |
Skills
[
]
Skill
Level
Skill
Level
Media
Innate

Resist Rage

20
Mabufu
Innate
Dekaja
21
Patra
Innate

Null Wind

23

Invigorate 2

19