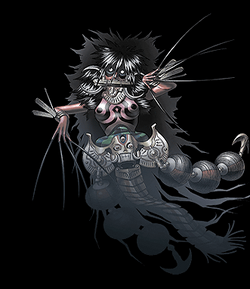 "A wicked witch of Balinese lore. She represents evil, and is Barong's eternal rival. Even if defeated, she will come back to life, and their battle will have no end."
—Compendium Info
Rangda (ランダ, Randa) is a Level 47 Persona of the Magician Arcana.
It can be obtained from Shuffle Time in the Midnight Channel dungeon Secret Laboratory.
Rangda inherits "Fire" skills from other Personas in Fusion.
Stats
[
]
| Strength | Magic | Endurance | Agility | Luck |
| --- | --- | --- | --- | --- |
| 24 | 37 | 30 | 25 | 32 |
Elemental
[
]
| Element | Phys | Agi | Bufu | Zio | Garu | Hama | Mudo |
| --- | --- | --- | --- | --- | --- | --- | --- |
| Affinity | Reflect | - | Weak | - | - | - | - |
| Effectiveness (%) | - | 100 | 125 | 100 | 100 | 50 | 50 |
Skills
[
]