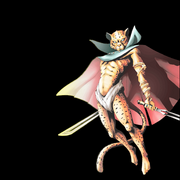 "One of Goetia's 72 demons, known as the President of Hell. He can shift his shape from leopard to human, and reveals the truth behind divine mysterious."
—Compendium Info
Ose (オセ, Ose) is a Level 31 Persona of the Fool Arcana.
It can be obtained from Shuffle Time in the Midnight Channel dungeon Void Quest.
Ose inherits "Physical" skills from the card fusions.
Stats
[
]
| Strength | Magic | Endurance | Agility | Luck |
| --- | --- | --- | --- | --- |
| 28 | 12 | 20 | 25 | 15 |
Elemental
[
]
| Element | Phys | Agi | Bufu | Zio | Garu | Hama | Mudo |
| --- | --- | --- | --- | --- | --- | --- | --- |
| Affinity | Resist | - | - | - | Block | Weak | - |
| Effectiveness (%) | 50 | 100 | 100 | 100 | - | 125 | 50 |
Skills
[
]