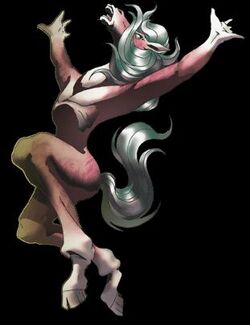 "One of the 72 demons of the Goetia. He appears as a horse and answers questions of the past, present, and future. He is faithful to his conjurer."
—Compendium Info
Orobas (オロバス, Orobasu) is a Level 8 Persona of the Magician Arcana.
It can be obtained from Shuffle Time in the Midnight Channel dungeon Yukiko's Castle and Steamy Bathhouse
Orobas inherits "Fire" skills from other Personas in Fusion.
Stats
[
]
| Strength | Magic | Endurance | Agility | Luck |
| --- | --- | --- | --- | --- |
| 4 | 10 | 6 | 7 | 4 |
Elemental
[
]
| Element | Phys | Agi | Bufu | Zio | Garu | Hama | Mudo |
| --- | --- | --- | --- | --- | --- | --- | --- |
| Affinity | - | Weak | - | - | Resist | - | - |
| Effectiveness (%) | 100 | 125 | 100 | 100 | 50 | 50 | 50 |
Skills
[
]