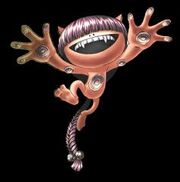 "A ghost who appears at night on a bushy path to jump on the backs of passersby. Once on, he won't get off easily, but some believe he will transform into money if taken back to one's home."
—Compendium Info
Obariyon (オバリヨン, Obariyon) is a Level 13 Persona of the Fool Arcana.
It can be obtained from Shuffle Time in the Midnight Channel dungeon Steamy Bathhouse.
Obariyon inherits "Physical" skills in the fusions that use its card.
Stats
[
]
| Strength | Magic | Endurance | Agility | Luck |
| --- | --- | --- | --- | --- |
| 11 | 6 | 11 | 9 | 9 |
Elemental
[
]
| Element | Phys | Agi | Bufu | Zio | Garu | Hama | Mudo |
| --- | --- | --- | --- | --- | --- | --- | --- |
| Affinity | Resist | Resist | - | - | - | - | - |
| Effectiveness (%) | 50 | 50 | 100 | 100 | 100 | 50 | 50 |
Skills
[
]