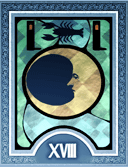 The Moon (XVIII) is one of the Arcana, and one of the integral elements of gameplay.
Profile
[
]
Social Link
[
]
Represented by Ai Ebihara, a vain female student caught up in her beauty complex.
Arcana Chance
[
]
Upright: Doubles EXP obtained after battle.
Reverse: Reduces EXP obtained to 1 after battle.
Persona
[
]
Level 20

Andra

Level 27

Nozuchi

Level 34

Yamata-no-Orochi

Level 41

Alraune

Level 48

Girimehkala

Level 57

Sui-Ki

Level 68

Seth

Level 77

Baal Zebul

Level 84 Sandalphon