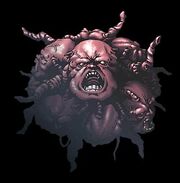 "The spirit who said, "For we are many," in ancient scriptures. The name comes from the Roman military term for an army unit of 3,000 to 6,000 men."
—Compendium Info
Legion (レギオン, Region) is a Level 21 Persona of the Fool Arcana.
It can be obtained from Shuffle Time in the Midnight Channel dungeon Marukyu Striptease.
Legion inherits "Negative Status" skills in the fusions that use its card.
Stats
[
]
| Strength | Magic | Endurance | Agility | Luck |
| --- | --- | --- | --- | --- |
| 17 | 15 | 18 | 8 | 15 |
Elemental
[
]
| Element | Phys | Agi | Bufu | Zio | Garu | Hama | Mudo |
| --- | --- | --- | --- | --- | --- | --- | --- |
| Affinity | - | Resist | Resist | - | - | Weak | Resist |
| Effectiveness (%) | 100 | 50 | 50 | 100 | 100 | 125 | 50 |
Skills
[
]