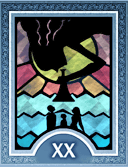 Judgement (XX) is one of the Arcana, and one of the integral elements of gameplay.
Profile
[
]
Social Link
[
]
Represented by Seekers of Truth Team, the Investigation Team after resolving to solve the murder case.
Arcana Chance
[
]
Upright: Fully restores characters' SP.
Reverse: Halves all characters' SP.
Persona
[
]
Level 59

Anubis

Level 67

Trumpeter

Level 72

Michael

Level 76

Satan

Level 83

Metatron

Level 90

Ardha

Level 93

Lucifer