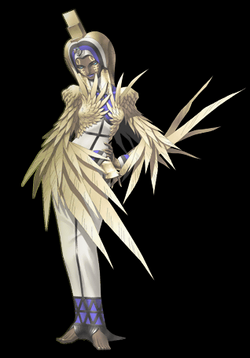 "Osiris's wife as well as his younger sister. Upon the death of her husband, she revived him with her incredible magic power. Isis is seen at many gravesites as the guardian goddess of the dead."
—Compendium Info
Isis (イシス, Ishisu) is a Level 74 Persona of the Empress Arcana.
It can be obtained by maximizing the Empress Arcana Social Link.
Isis inherits "Recovery" skills from other Personas in Fusion.
Stats
[
]
| Strength | Magic | Endurance | Agility | Luck |
| --- | --- | --- | --- | --- |
| 52 | 48 | 42 | 48 | 54 |
Elemental
[
]
| Element | Phys | Agi | Bufu | Zio | Garu | Hama | Mudo |
| --- | --- | --- | --- | --- | --- | --- | --- |
| Affinity | - | - | Reflect | Weak | - | - | - |
| Effectiveness (%) | 100 | 100 | - | 125 | 100 | 50 | 50 |
Skills
[
]
| Skill | Level | Skill | Level |
| --- | --- | --- | --- |
| Mediarahan | Innate | Absorb Ice | 82 |
| Bufudyne | Innate | Mabufudyne | 83 |
| Tetrakarn | Innate | Salvation | 85 |
| Cool Breeze | 80 | Null Elec | 86 |