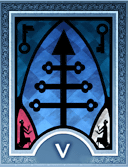 The Hierophant (V) is one of the Arcana, and one of the integral elements of gameplay.
Profile
[
]
Social Link
[
]
Represented by Ryotaro Dojima, main character's uncle.
Arcana Chance
[
]
Upright: Blocks the effect of a subsequent Reverse Arcana.
Reverse: Changes the subsequent Arcana Chance result to Reverse.
Persona
[
]