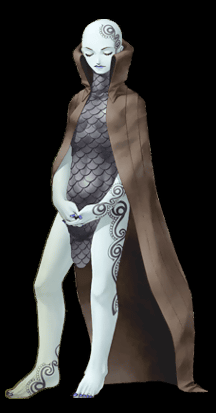 "A spiritual attendant to humans in Norse myth. She is known as both the goddess of farming and war, though some see her as a low-ranking servant of the valkyries."
—Compendium Info
Dis (ディース, Diisu) is a Level 39 Persona of the Magician Arcana.
It can be obtained from Shuffle Time in the Midnight Channel dungeon Void Quest.
Dis inherits "Fire" skills from other Personas in Fusion.
Stats
[
]
| Strength | Magic | Endurance | Agility | Luck |
| --- | --- | --- | --- | --- |
| 25 | 31 | 24 | 26 | 21 |
Elemental
[
]
| Element | Phys | Agi | Bufu | Zio | Garu | Hama | Mudo |
| --- | --- | --- | --- | --- | --- | --- | --- |
| Affinity | - | Reflect | - | - | - | - | - |
| Effectiveness (%) | 100 | - | 100 | 100 | 100 | 50 | 50 |
Skills
[
]