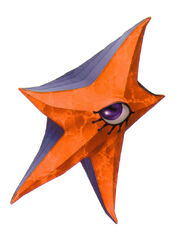 "One of the 72 demons of the Goetia. He comes in the shape of a star and has vast knowledge of herbs and jewels, He can also control birds at will."
—Compendium Info
Decarabia (デカラビア, Dekarabia) is a Level 46 Persona of the Fool Arcana.
It can be obtained from Shuffle Time in the Midnight Channel dungeon Secret Laboratory.
Decarabia inherits "Fire" skills in the card fusions.
Stats
[
]
| Strength | Magic | Endurance | Agility | Luck |
| --- | --- | --- | --- | --- |
| 27 | 36 | 25 | 26 | 31 |
Elemental
[
]
| Element | Phys | Agi | Bufu | Zio | Garu | Hama | Mudo |
| --- | --- | --- | --- | --- | --- | --- | --- |
| Affinity | Weak | - | - | Block | Resist | Block | - |
| Effectiveness (%) | 125 | 100 | 100 | - | 50 | - | 50 |
Skills
[
]