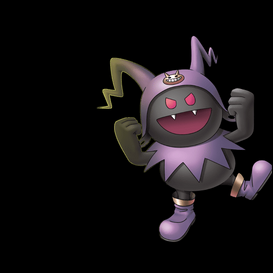 "A Jack Frost that wished for evil powers. This powerful demon is born when a cute Jack Frost remembers its nature as a demon."
—Compendium Info
Black Frost (ジャアクフロスト, Ja'aku Furosuto) is a Level 38 Persona of the Fool Arcana.
It can be obtained from Pentagon Spread Fusion in the Velvet Room; using Jack Frost, Pyro Jack, King Frost, Pixie and Ghoul.
Black Frost inherits "Dark" skills in the card fusions.
Stats
[
]
| Strength | Magic | Endurance | Agility | Luck |
| --- | --- | --- | --- | --- |
| 23 | 31 | 22 | 23 | 22 |
Elemental
[
]
| Element | Phys | Agi | Bufu | Zio | Garu | Hama | Mudo |
| --- | --- | --- | --- | --- | --- | --- | --- |
| Affinity | - | Absorb | Absorb | - | - | - | Reflect |
| Effectiveness (%) | 100 | - | - | 100 | 100 | 50 | - |
Skills
[
]